David Briggs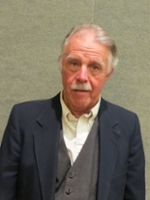 Part-time Instructor of Spanish
Department of Spanish and Portuguese
---
Education
BA, Boston University, 1960
MA, University of New Mexico, 2000
PhD, University of New Mexico, 2009
---
Biography
Dr. David Briggs has had various trips to Spain to study flamenco guitar (1966, 1973, 1987-88, 2007).  He arrived in Santa Fe New Mexico in 1967 and worked as a bartender from 1970-1998.  He has two sons, Josh and Evan and two grandchildren, Atticus and Scotland. He joined the graduate program in the UNM Dept. of Spanish and Portuguese in 2000 earning his M.A. in Spanish in 2002 and his PhD. in Spanish & Portuguese in 2009. He has since been teaching for the department as a part-time instructor in Spanish from 2010 to present.
---
Research Interests
Spanish Poetic Generation of `27, specifically Federico Garcia Lorca and Rafael Alberti, Cante Jondo, Gypsy Culture.
Article in "Malpais Review" : "Jim Sagel: Lowriding with New Mexico's Anglo-Chicano Poet". Malpais Review; Vol. 3 No. 3 Winter 2012-13.