Theodore Walker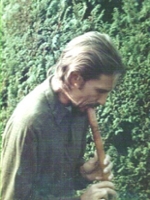 Part-time Instructor of Spanish
Department of Spanish and Portuguese
---
Education
PhD, University of New Mexico, 2008
MA, Concentration in Hispanic Literature, 1997
BA, University of New Mexico, 1990
---
Biography
I had the great fortune to study with the poets Ángel González and Luis García Montero as a UNM undergraduate in Granada.  As a graduate student at UNM, the opportunity to live in Granada as a Fulbright Scholar was also fundamental toward a fuller appreciation of Spanish literature, history, and culture.  I have had the great privilege of knowing and translating the poet Fernando Garavito.  The weekly, then twice-monthly column by Fernando Garavito in The Santa Fe New Mexican that I translated during spring 2005  to fall 2006 resulted in the book of collected columns entitled Práctica y ambigüedad del enemigo/Praxis and Ambiguity of the Enemy, Gaon Press, 2007, which won the New Mexico Book Awards for "Best Political Writing of 2007."  I have also had the pleasure of translating Cantando naranjas y limones/Singing Oranges and Lemons by María Nieves de Abajo. Ilustrations by Azita Golarai. Albuquerque: Centro Español de Recursos. Consejería de Educación de la Embajada de España en los Estados Unidos, 2009.  I have written the following Spanish-English bilingual books:  
El Camino Real: Greguerías & Sketches with Peter Pabisch. 2012. 
Invitation to the Imagination/Invitación a la imaginación. Original greguerías. 2012. 
Once Upon a Time You Called Me Black Boots / Érase una vez cuando me llamabas Botines Negros. A children's story. 2011.
---
Research Interests
Bakhtin's theory of menippean satire and Carnival humor in relation to Spanish literature
Most recently in "The Poet as Comedian: Angel Gonzalez and the Shades of Aristophanes"