Dr. Nogar's Podcast
February 24, 2017
If you were not able to make it to Dr. Nogar's talk last week, "The Challenge of National Literary Historiography: The Case of Mexican Literature Latin American", no problem,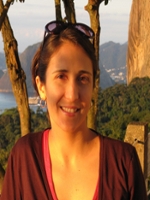 we have you covered. Click the link below to listen to the podcast of the entire talk on February 15, 2017.
http://laii.unm.edu/podcasts/2017-02-15-Anna-Nogar.php 
Anna Nogar is Associate Professor of Hispanic Southwest Studies in the Department of Spanish and Portuguese at the University of New Mexico. She is the author of Colonial Itineraries of Contemporary Mexico: Literary and Cultural Inquiries (University of Arizona Press, 2014), A History of Mexican Literature (Cambridge University Press, 2016), Sisters in Blue/Hermanas de azul (University of New Mexico Press, 2017) and the forthcoming Quill and Cross in the Borderlands: Sor María de Jesús de Ágreda, 1628-2015 (University of Notre Dame Press). She specializes in colonial Mexican literature and culture, and Mexican American literature and culture, with an emphasis on New Mexico.