Anthony Cardenas
Medieval literature with strong research interests in the Golden Age
Cervantes
17th century New Mexican texts
---
Libro del Caballero Cifar
Calificado por algunos como la primera novela de caballerías en castellano (la obra data de comienzos del siglo XIV aunque la versión que aquí recogemos sea la impresión sevillana de Cromberger de 1512), el Libro de Caballero Cifar presenta asimismo rasgos muy cercanos a la novela didáctico-moral y a los manuales para la educación de príncipes. No en vano, nuestro héroe representa el ideal del caballero cristiano de la época y dedica toda una parte de la obra a aconsejar a sus hijos sobre las pautas para el buen gobierno.

Pero como todo gran libro es difícil adscribir El Cifar a un género concreto. Al igual que en el Cantar de mio Cid nos encontramos ante la obra de un exilio, el que padece este leal caballero al ser relegado de la corte junto con su familia por una aciaga maldición: cada diez días se le muere el caballo y los envidiosos consejeros advierten al rey de que resulta demasiado costoso. El relato caballeresco se concentra entonces en las andanzas que emprende el protagonista en busca de un destino mejor, y en todos los infortunios que habrá de sufrir hasta llegar a ser rey de Mentón: desde el secuestro de su esposa a manos de unos piratas hasta la desaparición temporal de sus hijos, la liberación de una ciudad sitiada y otras muchas peripecias –que en no pocas ocasiones se sumergen en lo fantástico− hasta lograr el feliz reencuentro con su familia. Tras ello, descubriremos cómo el libro avanza hacia derroteros más cercanos a lo moralizante en los que Cifar demuestra su sabiduría como rey y como padre aconsejando a sus hijos sobre las pautas para el buen gobierno mediante numerosos cuentos interpolados que dotan a la trama de un encanto singular –así la Leyenda del Caballero Amigo…-, para concluir con una última parte en la que Roboán repite el modelo paterno y abandona el reino hasta lograr ser coronado como emperador de Tigrida.
Nuestros libros se pueden solicitar directamente o  a través de su librería habitual. A continuación le indicamos los datos de algunos distribuidores y librerías que mantienen deposito de nuestra colección. También puede consultar la página web.
Buy this book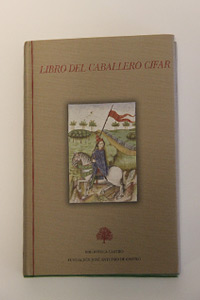 ---
Heroes and Anti-Heroes: A Celebration of the Cid
Heroes and Anti-heroes: A Celebration of the Cid, is a collection of five conference papers and one of the two plenary addresses presented in 2008 at the University of New Mexico's fifteenth annual conference on Ibero-American Culture and Society, along with two additional papers on the Poema de mio Cid (Poema, hereinafter), one originally scheduled for the New Mexico conference and the other read at the Medieval Association of the Pacific meeting in 2009. Editor Cárdenas-Rotunno, professor in the Department of Spanish and Portuguese at New Mexico and organizer of the conference that took as its rationale the eight-hundredth anniversary of the Poema de mio Cid, provides the thorough and thoughtful introduction to the book.
Buy this book