Anna Nogar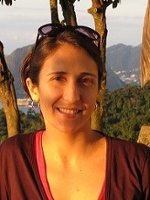 Associate Professor
Department of Spanish and Portuguese
---
Education
PhD, University of Texas at Austin, 2008
MA, University of Texas at Austin, 2004
BS, University of New Mexico, 2000
---
Biography
Anna M. Nogar earned her Ph.D. in Hispanic Literature and Mexican American Studies from the University of Texas at Austin.  Her primary research and teaching interests include colonial Mexican writing, and cultures of reading and exchange; Mexican American literary and cultural studies; and contemporary engagement with Mexican colonial history, stories and tropes.   

Nogar's monograph, Quill and Cross in the Borderlands: The Writing and Travels of Sor María de Ágreda, 1628 to the Present, treats the transatlantic history of Spanish nun, and author Sor María de Jesús de Ágreda, examining literary, historical, artistic and ethnographic artifacts. The book focuses not only on the four hundred-year-long history of the nun's bilocation narrative, but also on the impact of her writing on colonial Mexican society.

Nogar recently co-authored Sisters in Blue/Hermanas de Azul, a bilingual children's book, with Enrique Lamadrid. The text reenvisions Sor María's mystical travels from the dual perspectives of 17th century New Mexico and Spain (University of New Mexico Press, Pasitos por aquí series; illustrations by Amy Córdova).  

Nogar has edited two volumes, the Cambridge History of Mexican Literature (Cambridge University Press, with Ignacio Sánchez-Prado and José Ramón Ruisánchez Serra) and Colonial Itineraries of Contemporary Mexico: Literary and Cultural Inquiries (University of Arizona Press, with Oswaldo Estrada). The Cambridge History of Mexican Literature is a comprehensive study of Mexican literature from pre-Columbian intellectual production to the present day; Nogar edited the colonial, indigenous and Chicano literature sections. Colonial Itineraries examines contemporary reinventions of the Mexican colonia in fiction, film, poetry and performance. Nogar has otherwise published domestically in a variety of scholarly outlets, and abroad in publications in Okinawa, Spain, Mexico and France.

Nogar's current research projects examine early 20th century bilingual New Mexican writing as political engagement, and colonial-era transpacific cultural exchanges.
---
Research Interests
Colonial Mexican literature and cultural studies, with focus on communities of reading and mystical writing
Mexican American literature and culture, from the colonial era to the present day
New Mexican literature, in particular 19th and early 20th- century writers
Transpacific and transatlantic literary and cultural exchanges during the colonial period