Anna Nogar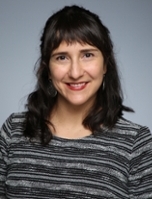 Associate Professor
Department of Spanish and Portuguese
Director of Graduate Studies
Department of Spanish and Portuguese
---
Education
PhD, University of Texas at Austin, 2008
MA, University of Texas at Austin, 2004
BS, University of New Mexico, 2000
---
Biography
Anna M. Nogar is Associate Professor of Hispanic Southwest Studies in the Department of Spanish and Portuguese at UNM.  Dr. Nogar's teaching and research specializations include Mexican American cultural and literary studies; colonial Mexico; early modern writers and communities of reading; and community oral histories.
Her teaching focuses on Mexican American cultural studies theory and methods: implementing oral history approaches; interpreting archives and other primary sources (print and ethnographic); and developing cross-disciplinary research skills.
Dr. Nogar is the author of Quill and Cross in the Borderlands: Sor María de Ágreda and the Lady in Blue, 1628- the Present (Notre Dame 2018), which treats nearly 400 years of history, literature and lore concerning the 17th-century bilocating Spanish nun Sor María de Jesús de Ágreda, and which establishes her as a significant colonial-era theological writer.   
She is an editor of A History of Mexican Literature (Cambridge 2016) and of Colonial Itineraries of Contemporary Mexico: Literary and Cultural Inquiries (Arizona 2014). Dr. Nogar co-authored with Dr. Enrique Lamadrid the prizewinning bilingual young reader's book Sisters in Blue/Hermanas de azul (New Mexico 2017), which interprets Sor María's travels for a youth audience.
Dr. Nogar's present research focuses on the works of early 20th-century bilingual New Mexican writer Felipe M. Chacón; she is authoring El feliz ingenio neomexicano: The Life and Writing of Felipe M. Chacón with Dr. Gabriel Meléndez. Other current projects include edited volumes on Mexican poetry, and on the Mexican novel. 
Dr. Nogar is engaged in research on oral histories in New Mexico, and directs a community-centered oral history project involving student researchers with Dr. Myrriah Gómez. 
Dr. Nogar has published in a variety of journals including Confluencia, Renaissance Quarterly, Revista de estudios hispánicos, Journal of the Southwest, Chasqui, Latin American Literature Today, Church History, Early American Literature, Revista de Soria, New Mexico Historical Review, Bulletin of Spanish Studies, and Revista Trans-.  Her essays have appeared in edited volumes such as Los oficios del nómada: Fabio Morábito ante la crítica; The Worlds of Junípero Serra; and Asaltos a la historia: Reimaginando la ficción histórica en Hispanoamérica.
---
Research Interests
Colonial Mexican literature and cultural studies, with focus on communities of reading and mystical writing
Mexican American literature and culture, from the colonial era to the present day
New Mexican literature, in particular 19th and early 20th- century writers
Transpacific and transatlantic literary and cultural exchanges during the colonial period