Kathryn McKnight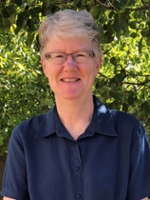 Associate Professor
Department of Spanish and Portuguese
---
Education
PhD, Stanford University, 1992
MA, Stanford University, 1987
Non-Degree Studies in Literature, Economics and Theology, Universidad Nacional Autonoma de Costa Rica and Seminario Biblico Latinoamericano, San Jose Costa Rica, 1983
BA, Earlham College, 1982
---
Biography
I am a scholar of Latin American colonial discourses and a passionate teacher of language, cultures, literatures, and cultural studies. These professional interests were sparked by living in South Africa as the daughter of educators, as an adolescent in small-town Indiana, and as a student of Latin America, activism, and Peace and Global Studies at Earlham College. Studying the discourses of colonialism for me means asking: How did we come to these violent, messy, and vibrant relationships? How might we see that distant colonial world and our own in new ways by analyzing the words and signifying practices of colonizers and colonized? My book 
The Mystic of Tunja. The Writings of Madre Castillo, 1671-1742
 (1997) explores how one woman molded autobiographical discourse, while facing both the empowerment and the constraints of the Church. 
Afro-Latino Voices: Narrative from the Early Modern Ibero-Atlantic World
 (2009), coedited with Leo J. Garofalo, brings together the testimonies, letters, wills, dialogues, and autobiographical narratives of Africans and their descendants in the first collection of its kind. It returns these voices to the discursive contexts from they have been erased, and through which we understand early-modern peoples and how they wrote and spoke about their interwoven lives. I have also written about testimonies by people of African descent in New Spain and Cartagena de Indias in the 
Colonial Latin American Review
, the 
Journal of Colonialism and Colonial History
, the 
Colonial Latin American Historical Review
, and 
Revista de Estudios Hispánicos
. This research examines how Afro-Latinos adopted, adapted, and undermined the dominant European discourses of the times and the meanings and stories these discourses told about their lives. But in my professional life, I am most energized when I am learning from students and from colleagues in the classroom and in my work with Latin American Studies, as together we seek to explore Latin American realities and texts critically and transform our knowledge into action.
---
Research Interests
Early Modern Literature & Culture
Women's Agency
Afro-Hispanic Documentary Narratives
Health Humanities