Mary Quinn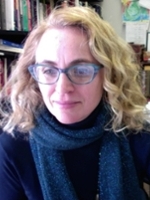 Associate Professor
Department of Spanish and Portuguese
---
Education
PhD, University of California, Berkeley
---
Biography
Mary Quinn is a scholar of early modern Spain; her current research centers on intersections between literature and music. She is co-editor of a forthcoming volume entitled Aural Culture and Poetics in the Early Modern Hispanic World: Sound, Rhythm and Music, to which she has contributed an exploration of the first zarzuela, written by Calderón de la Barca. She is currently finishing an interdisciplinary monograph that compares the empire-wide celebrations for the birth of prince Felipe Próspero (1657) through studies of zarzuelas, operas, poetry, and festival art. Quinn's first book, The Moor and the Novel: Narrating Absence in Early Modern Spain, (Palgrave Macmillan, 2013) engages both literature and history to uncover fundamental connections between nationalist violence, religious identity, and the birth of the novel. She has also published (or has forthcoming) articles on topics such as Ginés Pérez de Hita, vihuela poetry and music, Neapolitan opera, and various essays on Cervantes.
In 2017-2018 she was a Visiting Scholar at the Humanities Institute of University College Dublin, Ireland. She has given invited talks and seminars across North America and Europe at such venues as the Newberry Library, the University of Southern California-Huntington Library Seminar, Maynooth University (Ireland), Queen's University Belfast (UK), and the Universidad de Jaén (Spain), among others. She regularly spends extended periods of time researching and writing in Spain. Two future research projects include the depiction of pilgrimage and wandering in early modern Spanish literature and musical adaptations of Don Quijote in the twentieth century. She currently serves on the board of the Cervantes Society of America.
Quinn's teaching covers a wide range of subjects, from Spanish literature and music to art and architecture. She strives to make her period accessible and interesting to students. She believes in immersive learning experiences and regularly takes students to local museums, performances, the internationally renowned Spanish theater festival in El Paso, Texas, and all the way to Cáceres, Spain via UNM's Conexiones abroad program. She loves to help students unlock difficult texts and she relishes teaching Don Quijote above all. She recently walked 140 km of the Camino de Santiago de Compostela and is hoping to take students on this journey soon.
---
Research Interests
16th- and 17th- century Spanish literature, especially the novel and Cervantes
Cultural and interdisciplinary studies
Secular music, in particular the vihuela repertoire and early zarzuela
Festival culture of the Hapsburg Empire