Angelica Serna Jeri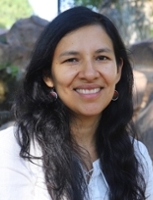 Assistant Professor
Department of Spanish and Portuguese
---
Education
PhD, University of Michigan, Department of Romance Languages & Literatures.
BA, Universidad Nacional Mayor de San Marcos, Departamento de Humanidades, Literatura Latinoamericana.
---
Biography
I am a scholar of indigenous languages and cultures in Latin America with a focus on the Andean region and the Quechua language family. My scholarship and teaching meet at the intersection of indigenous studies, postcolonial theory & subaltern studies, digital humanities and material culture. In my research on the material aspect of writing I use a transhistoric and ethnographic approach, reaching from the Precolumbian times to the present. 
I grew up drawn to storytelling and history in a Quechua-Spanish bilingual family. My interest in the dynamic relationship between writing and verbal art has motivated me to delve into the lives of old books, paper, libraries and archives. By reflecting on how the spoken experience articulates with text, my work also examines the affective aspects of the archive. 
I am currently working on a book that focuses on the role of indigenous speakers in the emergence of literacy in the colonial period, with emphasis on the Andes and the Quechua language family. This work foregrounds the production of historical sources on indigenous Latin American peoples and their languages. These reflections on the political conceptions of literacy in the Andes express my commitment to a critical understanding of the relationship between writing and colonial extractivism in Latin America, and particularly in the Andes.
---
Research Interests
Indigenous languages in Latin American literature and culture.
Archives & ethnography.
Quechua language family.
Material culture.
Indigenous cartography in the Americas.